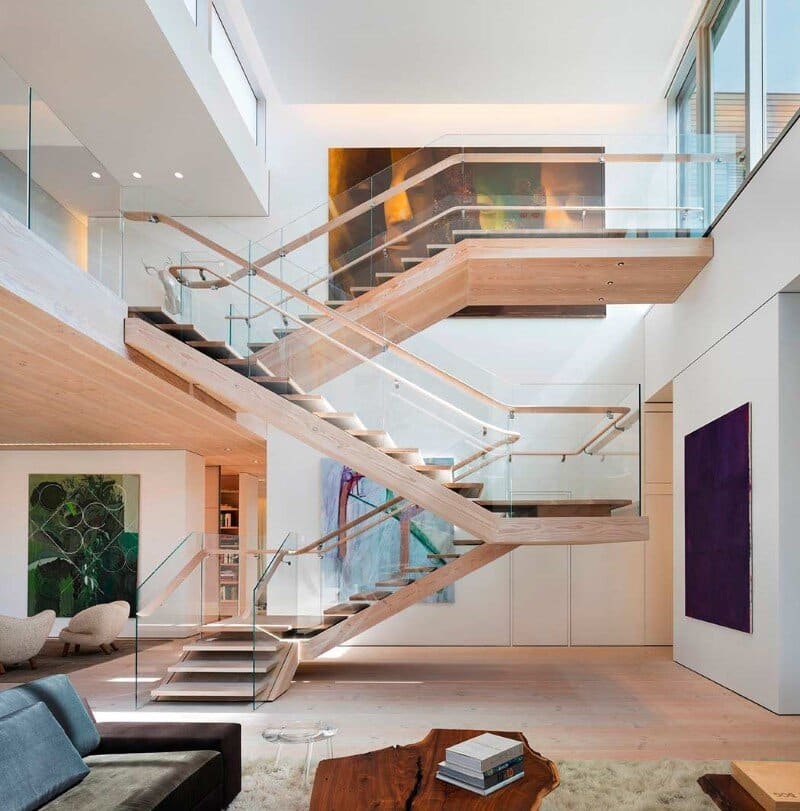 This stunning 8,300 square-foot loft apartment is designed by Gabellini Sheppard Associates. SoHo Loft is located in New York's SoHo Cast Iron Historic District.
Built to showcase the family's extensive art collection, this penthouse loft is washed in natural light from the numerous windows and skylights situated throughout. The family residence consists of an open, flowing interior with a mezzanine level and two twin terraces on the east and west offering views of the Manhattan and Brooklyn Bridges along with all of Lower Manhattan.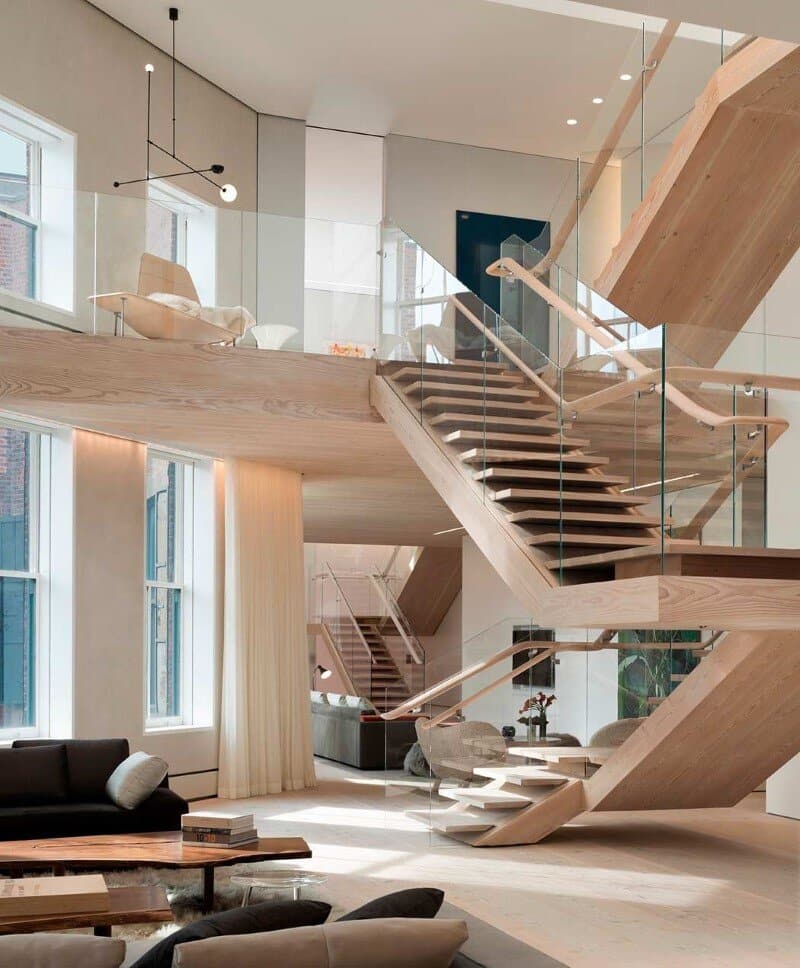 The interior space is completely open, displaying an overt horizontality that is broken into distinct living areas moving subtly from public to private. This transition is punctuated by two triple height atria showcasing floating staircases that connect the ground level to the mezzanine level to the east and west terraces, respectively. Large clerestory windows lining the top of the atria allow sunlight to cascade in while offering glimpses of the terraces beyond. Moving east to west, the kitchen, dining area and public lounge spaces (including a library) flow into the more private areas consisting of a family room, private gym, home office and bedrooms.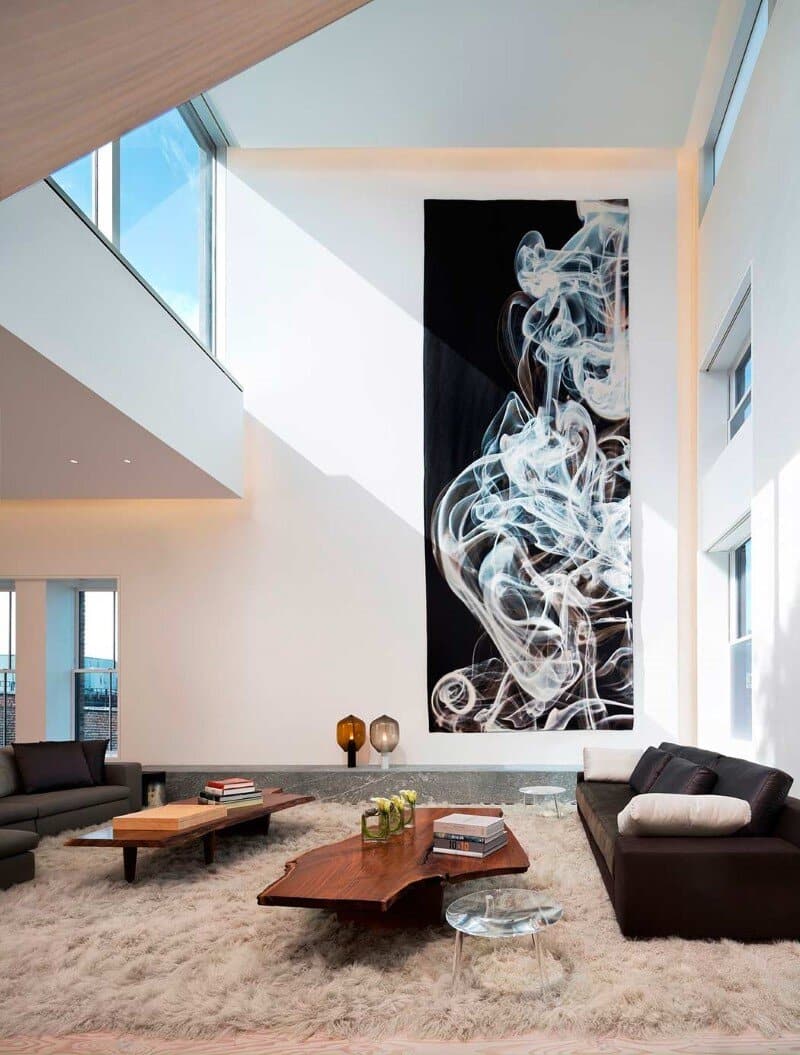 The private area is also subtly distinguished by the raised platform which comprises the entire area as well as fully retractable, opaque glass doors between the family lounge, playroom and gym. The mezzanine level is occupied fully by the master suite consisting of master bedroom, his and her walk-in closets, and bathrooms.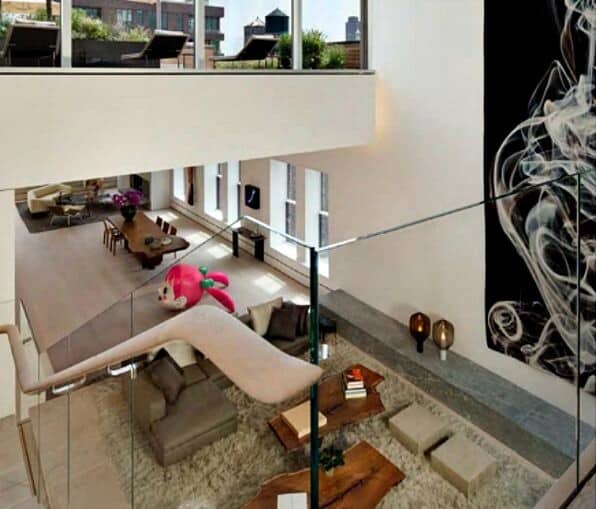 As with any gallery, lighting plays a key role in defining the space. The ephemeral natural light is supplemented with ambient cove lights along the ceiling perimeter, creating a further sense of airiness. Backlit dropped ceilings in the atria heighten the illusion of space while giving the interiors a warm glow that can be seen from the terraces. In addition to the lighting, the interior is unified by the Danish Douglas Fir wood flooring that is used throughout, including the floating staircase treads and on the mezzanine level. Washed in a lye and soap solution, the natural colored wood lends warmth to an otherwise graphically white interior. Art pieces, including a magnificent tapestry in the living room, accent the space with color, creating a vibrant space where art and life interact daily. For more information visit Gabellini Sheppard Associates