Project: Hansen Road House
Architects: Coates Design Architects
Location: Bainbridge Island, Washington
Contractor: Smallwood Constructions,
Roofing: Hanley Roofing
Civil Engineer: Browne Engineering, Inc.
Geotechnical Engineer: Myers Biodynamics inc.
Landscape Architect: Outdoor Studio, LLC.
Structural Engineer: Peter A. Opsahl Structural Engineering, Inc.
Courtesy of Coates Design Architects
From the outside, Hansen Road House is an anonymous, almost austere, monumental facade anchored deeply into the hillside on a waterfront property. Upon entering, it becomes clear that an entirely different experience awaits on the inside, where it is warm, light, and open. The 18-inch-thick concrete walls that form two sides of the building's exterior provide a poignant counterpoint to the warm wood and copper form that rests at a slight angle to take full advantage of the site's water and mountain views. The concrete exterior wall and exposed concrete within the home reduce energy costs by serving as thermal mass, naturally cooling the home in the summer and retaining warmth in the winter.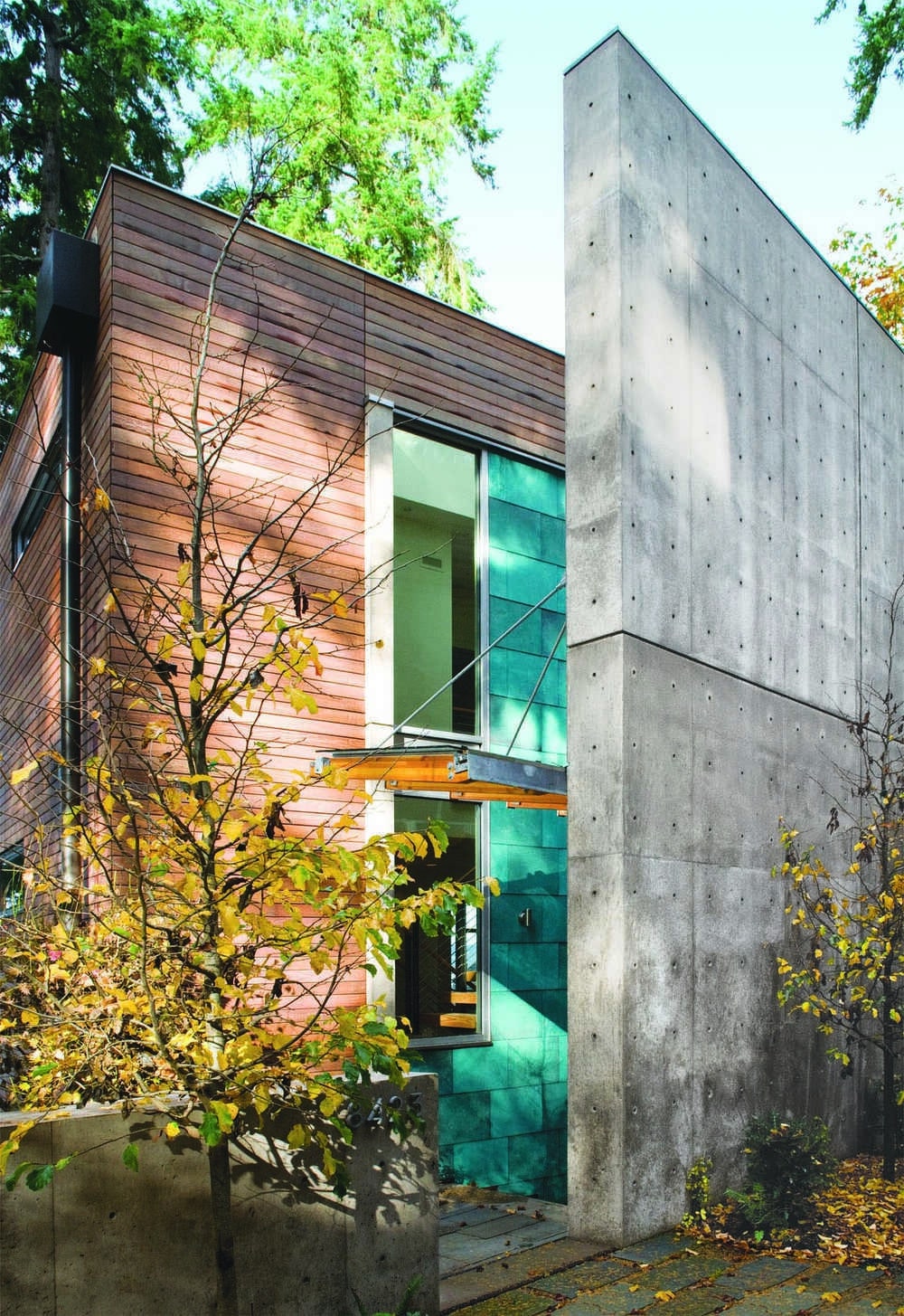 Each room was carefully designed to take advantage of views, provide comfort to the residents, and have an appealing style. With only a small buildable area available on the site, the building's footprint is maximized through the use of vertical space. The close proximity to the street is softened by native landscaping and a stone retaining wall. The back façade of the home, which faces the Olympic Mountains and Puget Sound is mostly made up of glazing. The main living space opens out onto a large deck that cantilevers from the home's structure, providing a seamless connection from inside to out. The stairs, lit by a large skylight above, are made of customized blackened steel and wood that was milled from a tree previously located on the property. With 12-foot-tall ceilings, the three-story home leaves an indelible sensation of openness and inspiration with all who visit.
Features:
· Reduced energy cost with use of thermal mass
· Natural ventilation and daylighting
· Radiant floor heating
· Drought-tolerant landscaping
· Views of the Puget Sound and mountains
· Connection between indoor and outdoor living spaces