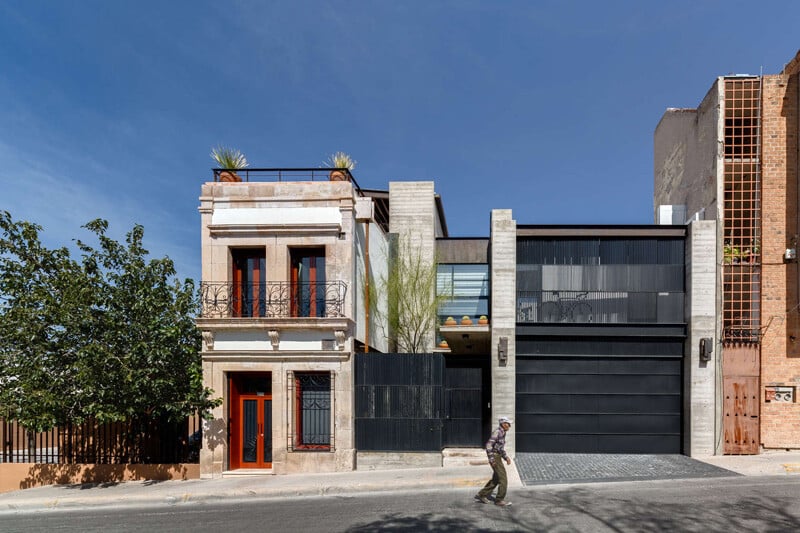 This house is located in the historic center of Chihuahua City, in north-central Mexico. This district displays a deteriorated urban fabric due to the demolition of a great number of old buildings being replaced by surface parking lots. The population has migrated to the fringes leaving an empty housing stock.
The project was aware of the importance of both the restoration and integration of architectures while demonstrating the possibilities of contemporary housing in the urban center. The old building is a two story structure built in the early twentieth century in a 40 square meter footprint. The construction system includes adobe walls, wood beams, a limestone facade, and an earthen roof. The project and construction began in 2010 working with an office program.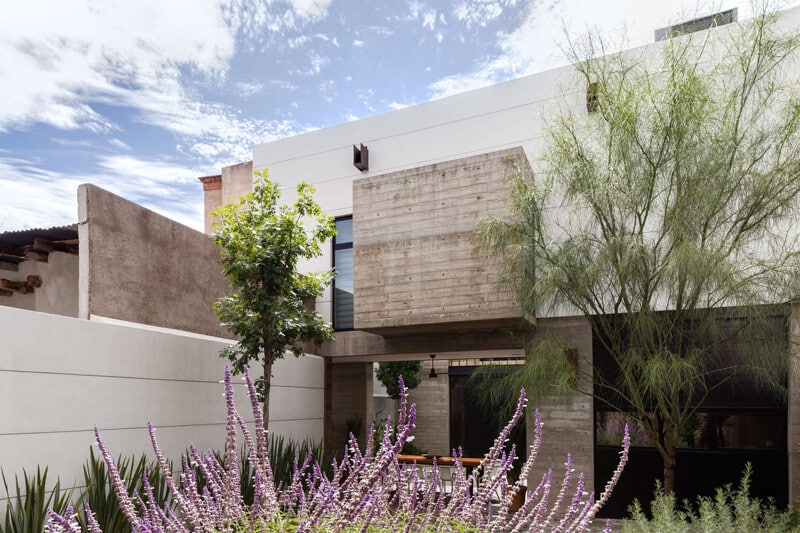 Restoration started by eliminating all of the non-original additions and rebuilding the earthen roof. The frontal facade was stabilized since it was detaching from the main structure. The neighboring 300 square meter property was added to the program while during this first construction stage. Therefore the program changed from office to a house. The old and new construction was articulated by a vertical stair cube. The stair provides access to the two stories and the rooftop terrace where views of downtown Chihuahua can be enjoyed.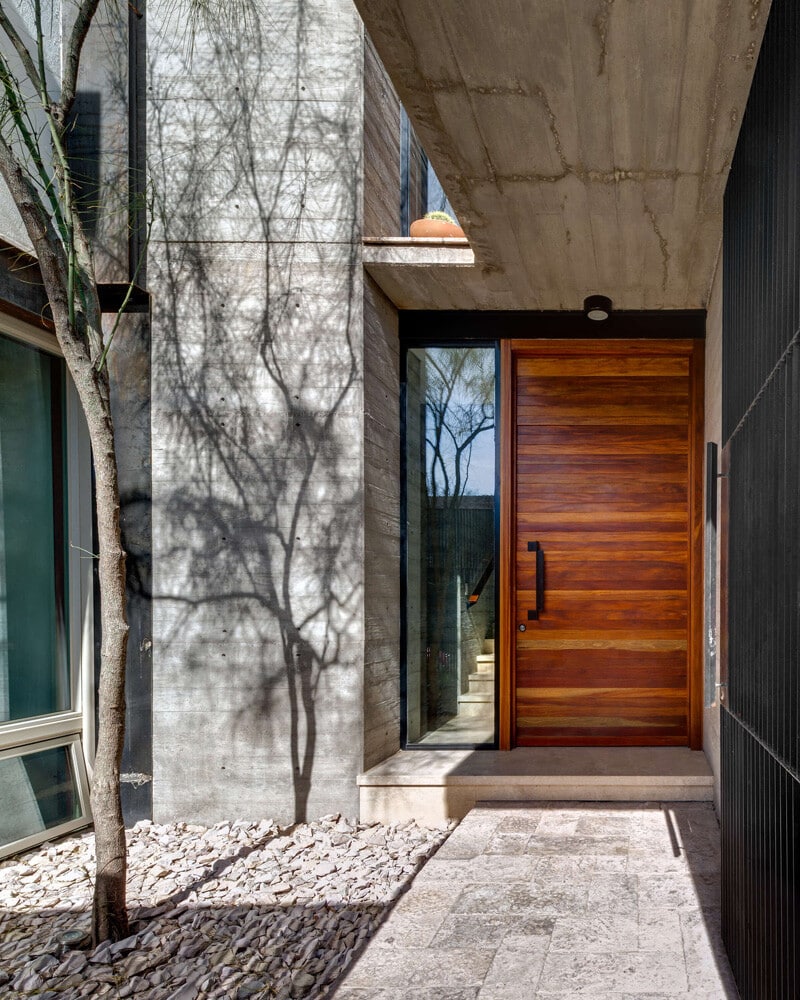 Access from the street happens in between the old and new constructions in a sequence that first goes through a patio-zaguan before penetrating to the interior. This access patio allows for additional light and ventilation for the old building while allowing for the concentration of rainwater collected from the rooftops. Once through the threshold in the ground floor one can access a painting studio in the old building or the social area in the new building. The latter is a double height space composed of the living room and the kitchen. Both areas are divided by a bar and joined in the exterior by a patio.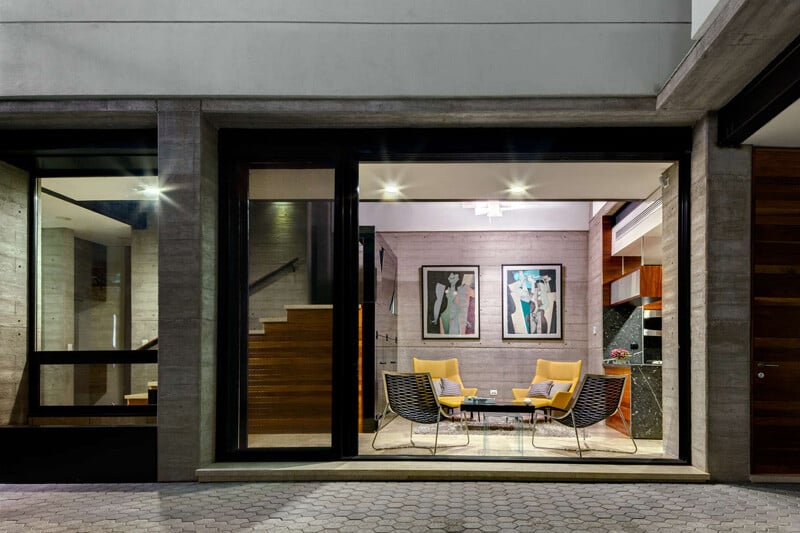 The garage can be added to the expansion of the social areas spilling to the exterior. The second story contains the family room in the old building while the new construction has two bedrooms separated by a library-bridge. One bedroom is related to the street in the front and the other looks to the backyard. The third and top level is a rooftop terrace with a steel plaque grill. The floor is a ceramic tile which allows the earthen roof to breathe out excess moisture. Plant pots and a light-well complete the arrangement with patio furniture. The backyard has hardscape and softscape areas. The grasses, shrubs, and trees are a selection of native plants.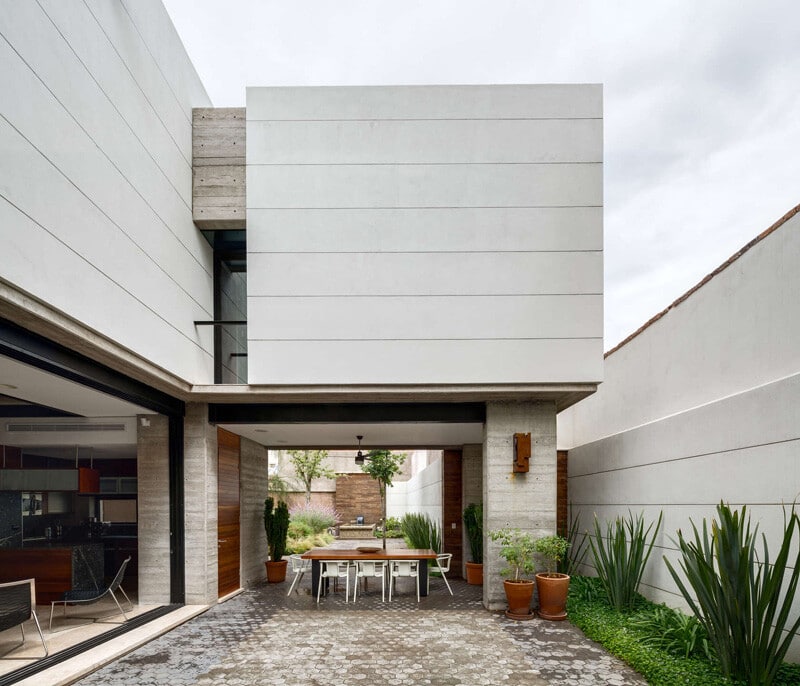 Concrete modular pavers allow for the absorption of rainwater in order to help support the plants. In the back of the property there is a water fountain framed by recovered timber from the construction's scaffolding. Other recovered materials include the original limestone flooring, some of which was reinstalled while another part was crushed and used as ground cover to reduce the loss of moisture.
Architects: LABor Studio
Location: Chihuahua, Chihuahua, Mexico
Architect In Charge: Rodrigo Seáñez Quevedo
Area: 300.0 m2
Year: 2014
Photographs: Rafael Gamo